Console Passion - UK Retro Games Store
Just In!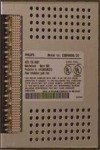 The Philips CDi Digital Video Cartridge. Model number 22ER9956. Fits the Philips CDi 450. Allows games & films that require the Digital Add-on to be played - Dragons Lair is the best of these;
View all Philips CDI products
Challenge a friend or match your reflexes against our very tough computer pro. Here's video tennis that looks, sounds and plays like the real thing. Lay down drop shots, rally from the baseline, or at
View all Atari 2600 products
Think you're tough, huh? Well, you better be. Because you've got to be quick on your feet and fast with your hands to become the next URBAN CHAMPION. You've got to block, fake and land
View all Nintendo NES products
- Nintendo Gamecube (PAL)
An true RGB Scart cable to connect your Nintendo Gamecube to your TV set via AV port instead of the Composite AV lead. This cable outputs full stereo sound to your TV and gives improved picture qualit
View all Nintendo Gamecube products
Newsletter
Sign up for our newsletter to receive notice of exciting news and stock updates!