Covid19 Lockdown update
Hello everyone. We are still posting during lock down, however there may be a slight delay in your delivery times due to local and national restrictions faced by couriers. We hope you all stay safe and well during this time.
Console Passion - UK Retro Games Store
Just In!
Raise the roof with the NBA's newest superstar with Kobe Bryant in NBA courtside. Run your offense, set picks and slam home alley-oops. Rattle your rivals by double teaming playmakers, intercep
View all Nintendo 64 products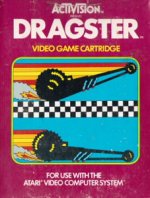 If you've ever dreamed about being a drag racer, wait till you buckle into your big powerful Dragster and rev up the engine. Brrrrm, brrrrm... feel the engine rumble as the countdown clock ticks... 3,
View all Atari 2600 products
From the arcade to the armchair! Sega's revolutionary SVP chip puts you in the driving seat of the most technically advanced game ever. Stunning polygon graphics, four selectable viewpoints and
View all Sega Megadrive products

Ger ready for the best football action the world has seen. Get ready to take control of 36 international squads with recognisable star players. Get ready for the most awesome graphics, with over 18,00
View all Nintendo 64 products
Newsletter
Sign up for our newsletter to receive notice of exciting news and stock updates!