Console Passion - UK Retro Games Store
Just In!
The gothic journey to die for. Take an eerie romp on the dark side with the undead hero, Sir Daniel Fortesque as he returns to battle the evil occultist Palethorn in a gothic, twisted version of Vi
View all Sony Playstation products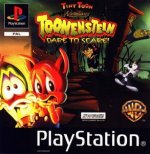 Toonenstein: Dare To Scare is a wacky new kids adventure game based on the Emmy award winning 'Tiny Toon Adventures' animated series! 34 zany contraptions to find and activate. Beautifully rendered 3D
View all Sony Playstation products

Killer Instinct Gold rocks the gaming world with earth-shattering moves and unbelievable graphics. Your battle unfold with lightening-fast action and fluid character animation at sixty frames per s
View all Nintendo 64 products
Want to get some serious air? Then check out Excitebike 64 with its silky smooth visuals and accurately modelled motorbike controls. Excitebike 64 delivers a solid blast of full-throttle fun!
View all Nintendo 64 products
Newsletter
Sign up for our newsletter to receive notice of exciting news and stock updates!