Covid19 Lockdown update
Hello everyone. We are still posting during lock down, however there may be a slight delay in your delivery times due to local and national restrictions faced by couriers. We hope you all stay safe and well during this time.
Console Passion - UK Retro Games Store
Just In!

Forged in the fires of the Dark Ages, Mace is the hottest 3D fighting game ever! Each medieval character wields a weapon unique to their land of origin. There only desire, to inflict serious pain.
View all Nintendo 64 products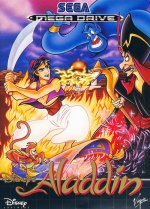 Sega, Disney Software and Virgin Games present Disney's Aladdin game. Hang onto your carpet for action and fun! Aladdin slashes his shining scimitar to fight through Agrabah, escape the Sultans
View all Sega Megadrive products
This exclusive compilation of Sega Arcade games will bring all the action of the arcade into your home. This compilation contains Alien Storm, Super Thunderblade & Super Monaco GP.  
View all Sega Megadrive products
Hey dudes! Take to the slopes in this totally boardacious snowboarding game! Bust some skill moves like the chicken salad or the backside arrest. There's even a replay mode where you can re-liv
View all Sega Saturn products
Newsletter
Sign up for our newsletter to receive notice of exciting news and stock updates!