Console Passion - UK Retro Games Store
Just In!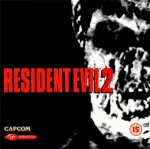 One of the world's best selling video games has arrived on Dreamcast. Now you can experience the survival horror of Resident Evil 2 with unprecedented realism. Face wave after wave of the un-de
View all Sega Dreamcast products
WCWNWO Revenge gives you the most realistic all-round fighting experience on the Nintendo 64. Over sixty Wrestlers (including fifty Superstars from WCW and NWO) with their unique signature entrance
View all Nintendo 64 products
Brought to you by top game coders AM2, this pixel-perfect conversion of the smash-hit coin-op contains all the bumper-to-bumper action found in the stunning arcade original. Crash and bash your way
View all Sega Saturn products
As Hercules, step forward to fight for immortality by pushing your intellect to its limits. Explorer magnificent temples, lost cities, hidden underworlds and fiendish labyrinths, confronting deviou
View all Sega Megadrive products
Newsletter
Sign up for our newsletter to receive notice of exciting news and stock updates!